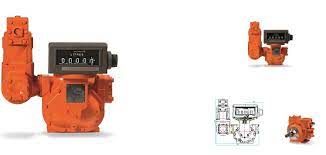 MC 507 C 2 DN80 (2'') - Positive Displacement Flow Meter
Hãng sản xuất: MeterControl
Liên hệ tư vấn

Mr. Tùng

tung@pitesco.com

0915831479

live:tung_534
Highlights:
MC 507 C 2 DN80
Lack of internal friction (No metal-to-metal contact)
Reduced number of parts
Long lifetime
Self-lubricating
Low and easy maintenance
Low drop pressure between parts
Simple and robust design
Bi-directional liquid flow
Meets Worldwide Weights and Measures Standards
Repeatability under diverse condititions and products
Technical Data
Input – Output: 2'' x 2'' Standard (1'' Optionally)
Type of flange: ANSI, Square NPT, BSPF
Nominal Flow Rate: 50 – 380 lpm (max 500lpm)
Standard measure unit: Litres (US Gallon optionally)
Max Pressure: 10.3 bar (150 Psi)
Repeatability: 0.05%
Accuracy: ±0.12% over a range of 5:1
Viscosity Range: 30 to 1,500,000 SSU (1 to 325,000 cps)
Working Temperature: -30 0C to +70 0C
bsolute compatibility with all Veeder Root components
Meters Control Positive Displacement Flow meters offer the ideal solution in a variety of applications, in which transfer of petroleum products is implicated and high accuracy is
required.
Meters Control Positive Displacement flow Meters use the long time proven technology of Tri-Rotor and Vane, with no friction due to the precise accuracy tolerances of the principle.
The MC Series Flow Meters are designed and engineered in European Union and they are certified according to:
Directive 94/9/EC (ATEX)
Directive 2004/22/EC (MID)
Above European Certificates guarantee
Accuracy Repeatability and Long Life.
==> Nếu bạn có thiết bị cần sửa chữa - Liên hệ ngay !!!
==> Xem thêm th iết bị của Meter Control