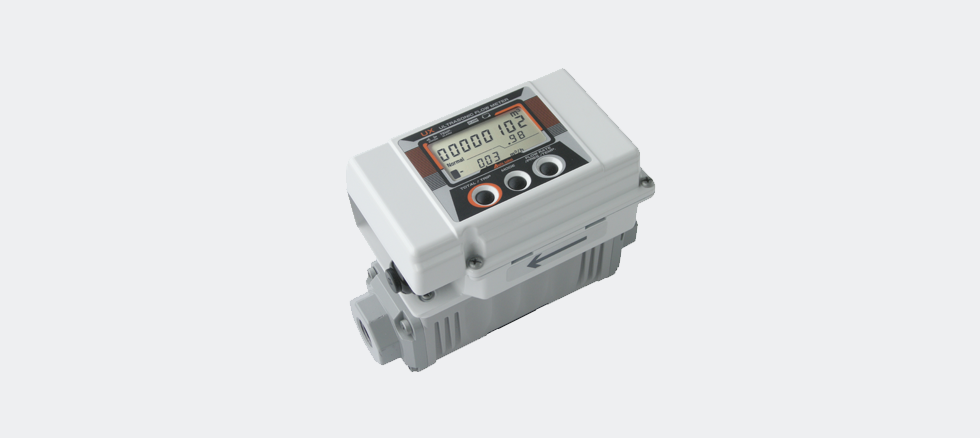 UX Ultrasonic Flow Meter For Fuel Gas Control, 45/5000 Máy đo lưu lượng siêu âm UX Đối với kiểm soát khí đốt nhiên liệu
Xuất sứ: Japan
Nhà cung cấp: Pites
Hãng sản xuất: Aichi Tokei Denki
Liên hệ tư vấn
Ms Trinh
trinh@pitesco.com
0914.738.179
live:6ef6300b3a06528e
UX15(25)-0DC, UX15(25)-0AC, UX15(25)-0BT, UX Ultrasonic Flow Meter For Fuel Gas Control, 45/5000 Máy đo lưu lượng siêu âm UX Đối với kiểm soát khí đốt nhiên liệu hãng Aichi Tokei Denki
Tính năng, đặc điểm
Một sản phẩm mới đã được thêm vào dòng sản phẩm máy đo lưu lượng siêu âm cho khí đốt!

Nó được trang bị một loạt khả năng nhận diện và đo lường bao gồm cả sử dụng các microflow các đặc tính của sóng siêu âm. Nó có khả năng chống bụi nên không cần cài đặt bộ lọc.

Đồng hồ đo lưu lượng này là thiết bị hoàn hảo để đo lưu lượng khí thấp như thực phẩm và kiểm soát việc sử dụng khí của các lò quy mô nhỏ.

(Sản phẩm hợp tác phát triển với Tokyo Gas Co., Ltd.)
Performance Hiệu suất cao hỗ trợ nhiều loại tốc độ dòng chảy.
Phạm vị nhận diện rộng 1:50, bao gồm tốc độ dòng chảy tối thiểu đến tối đa.
Chống bụi và độ bền cao
Không cần cài đặt bộ lọc.
Tiết kiệm không gian, vì nó không yêu cầu đường ống thẳng.
Các biện pháp với độ chính xác cao thậm chí được cài đặt ngay sau đường ống khuỷu tay.
Bạn có thể lựa chọn loại nguồn cho nó
Chọn từ nguồn AC, nguồn DC hoặc pin tích hợp.
Một loạt các chức năng đầu ra hỗ trợ trực quan hóa các luồng.
Xung đơn vị / 4 - 20 mA DC / RS485 (Modbus / RTU) *
* RS485 chỉ dành cho các kiểu nguồn AC hoặc DC.
Specifications
Models

UX15(25)-0DC

UX15(25)-0AC

UX15(25)-0BT

Power source

External power supply 24 VDC

External power supply 100 VAC

Dedicated lithium battery *1

Diameters of connected parts

UX15:Rc1/2UX25:Rc1

Types of measurable gases *2

Town gas (13A)
Butane (70% butane, 30% propane)
Propane (98% propane, 2% butane)
Nitrogen

Fluid Temperature

-10~+60℃ (No freezing)

Flow rate range

0.12~6m3/h

Accuracy

Actual flow rate *3

39-18. ± 2% RD (0.6m3/h or more to 6 m3/h or less),± 0.5 % FS (0.12 m3/h or more to less than 0.6 m3/h)

Temperature

±1.5℃

Low flow rate cut-off

0.024m3/h (Maximum flow rate/250)

Maximum operating pressure

100kPa

Pressure loss

200 Pa or less (Town gas 13A, standard atmospheric pressure + 2.5 kPa, Maximum flow rate)

Rated voltage

21.6~26.4VDC

85~115VAC

—

Power consumption

2 W or less (When the voltage is 26.4 V and current output is 22 mA)

10W or less (When the current output is 22 mA)

—

Environment temperature range

Temperature: -20°C to + 70°C *No condensing

Output

Analog

4 to 20 mADC (Load resistance at 400 Ω or less)
Select from the instantaneous flow rate and temperature.

—

Output 1 (Flow rate pulse)

Unit pulse (Select from 1, 10, 100, 1000, and 10000 L/P; Standard setting: 1000 L/P)
Duty 20% – 80%
Nch open-drain output (Maximum load 24 VDC and 50 mA)

Output 2 (Alarms)

Select the upper and lower limit alarms or the upper limit alarm of the integrated value.

Select the battery voltage drops or upper and lower limit alarms.

Communication *4

Complies with RS 485 Modbus /RTU
(Select 4800 bps or 9600 bps.)

—

Measurement interval *5

0.5 seconds

2 seconds

Display

Main display

Accumulated flow rate: 8-digit integer and 2-digit decimal; Trip accumulated flow rate: 7-digit integer and 2-digit decimal
Ultrasonic measurement error, temperature measurement error, battery voltage error (for the built-in batteries model only)

Sub display

Instantaneous flow rate display: 5-digit; Temperature display: 3-digit; Pressure display: 4-digit

Flow direction

The flow direction is from left to right or right to left relative to the indicator.
* Please select when ordering.

Mounting position

Horizontal or vertical
(The meter cannot be installed in a position where the indicator is directed downward or the cable introduction part is directed upward.)

Conversion functions

Simple standard *6

A flow rate where the actual flow rate is corrected to the standard temperature and 1 atm.
(Enter an arbitrary fixed value for the pressure.)

Simple normal *6

A flow rate where the actual flow rate is corrected to 0°C and 1 atm.
(Enter an arbitrary fixed value for the pressure.)

Major materials of the part exposed to gases

Aluminum alloy and PPS

Protective structure

Indoor and outdoor IP64 (JIS C 0920); Avoid direct sunlight.

Mass (kg)

1.6

1.7

1.8
*1 Battery life is five years (under an average environment temperature of 20°C). The batteries can be replaced on-site.
*2 The type of gas setting can be changed on-site.
*3 The actual flow rate stands for the volume flow rate (unadjusted flow rate).
*4 The communication specifications are available on our product website.
*5 Moving average can be configurable (Select from 1 to 16 times; Standard setting is 4 times).
*6 The expression "simple" stands for the correction of a pressure value using an arbitrary value (fixed value).
Dimension
PDF Download