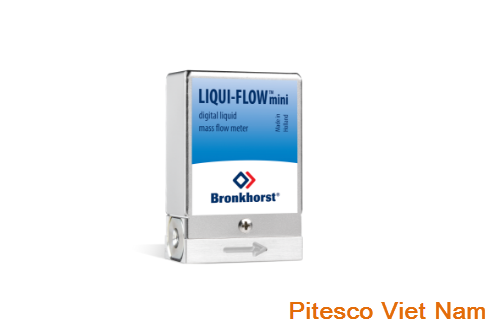 Micro Fluidic Mass Flow Meter for liquids
Xuất sứ: Holland
Nhà cung cấp: PITESCO VIET NAM
Hãng sản xuất: Bronkhorst
Liên hệ tư vấn
Mr Hoạt
hoat@pitesco.com
0912.300.549
hoat.bui
LIQUI-FLOW MINI LM02
Micro Fluidic Mass Flow Meter for liquids
Fast and accurate measuring signal

Insensitive to mounting position

Very small internal volume (0,88 mm3, smaller on request)

Analog or digital (RS232/RS485) output

High pressure rating 1000 bar (15000 psi), higher on request
Liquid Mass Flow Meters for Ultra Low Flow Rates
Bronkhorst® model LM02 Liquid Flow Meters (LFMs) are suited for precise measurement of flow ranges from 1,5...75 mg/h (0,025...1,25 μl/min) up to 12...600 mg/h, based on water. The microfluidic instruments can be applied for high pressure applications up to 1000 bar (higher on request). The LFM consists of a straight duplex steel sensor tube (W1.4462) with an internal volume of less than 1 mm3 which operates on the thermal measuring principle.

Due to its high pressure rating (up to 1000 bar; higher on request) the LIQUI-FLOW™ mini flowmeter is suited to HPLC systems. The instrument is equipped with a microprocessor-based printed circuit board, offering high accuracy and excellent temperature stability. The RJ45 connection is used for power supply and for both analog and digital (RS232/RS485) communication.
Technical specifications
Measurement system

Accuracy (incl. linearity)
(based on actual calibration)

±2% FS

Turndown

1:50 (2...100%)

Repeatability

< 0,2% FS (typical H2O)

Response time (t63%)

0,4 sec.

Viscosity

0,1...100 cP

Operating temperature

5…50°C

Temperature sensitivity

0,1% RD/°C + 0,15 mg/h/°C

Attitude sensitivity (at 90°)

< ± 3 mg/h

Warm-up time (approx.)

2 min for accuracy ± 2% FS
Mechanical parts

Material (wetted parts)

Duplex steel W1.4462

Pressure rating

1000 bar abs

Process connections

none (10-32 UNF Female);
option: 1/16" OD (PEEK or SS316)

Seals

Metal

Ingress protection (housing)

IP40
Electrical properties

Power supply

+15…24 Vdc +/-10%

Max. power consumption

1 W

Analog output

0...5 (10) Vdc or 0 (4)...20 mA (sourcing output)

Digital communication

RS232 or RS485 (Modbus RTU/ASCII or FLOW-BUS)

Electrical connection

RJ45 modular jack

Technical specifications and dimensions subject to change without notice.