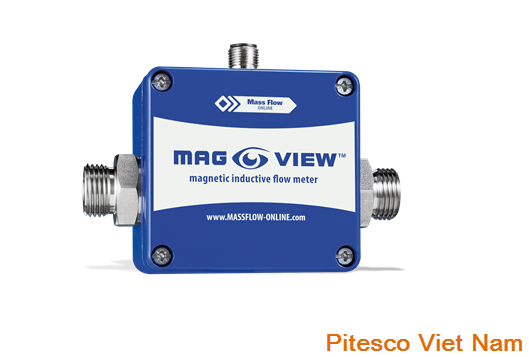 Low-Flow Magnetic Inductive Flow meters for water-like liquids
Xuất sứ: Holland
Nhà cung cấp: PITESCO VIET NAM
Hãng sản xuất: Bronkhorst
Liên hệ tư vấn
Mr Hoạt
hoat@pitesco.com
0912.300.549
hoat.bui
MAG-VIEW MVM-250-PA,
MAG-VIEW MVM-250-PN
Low-Flow Magnetic Inductive Flow meters for water-like liquids
Compact, weatherproof (IP65) design

No moving parts (no mechanical wear)

Interference free operation

Independence to inlet/outlet pipework

Fast response

Free pipe cross section: low ΔP, insensitive to contamination
Electromagnetic flow meters for low flow rates of water and aqueous solutions
MAG-VIEW instruments are electromagnetic inductive flow meters for electrically conductive liquids with a minimum conductivity of 50 μS/cm. The compact, weatherproof (IP65) flow meters do not contain any moving parts, cause virtually no pressure loss and can be mounted in any position, requiring no straight inlet or outlet runs.

MAG-VIEW flow meter model MVM-250-PN has a nominal diameter of DN20 for flow rates of 5...250 l/min, suited for operating pressures up to 16 bar(g). The pulse output of the instrument is proportional to the flow.
Technical specifications
Performance

Accuracy

±1,5% Rd, ±0,3% FS

Turndown

1:50

Signal output starting from

~ 4 l/min

Response time

< 500 ms

Flow indication

green LED, flow proportional flashing

Media

Water and other conductive liquids
(minimum conductivity of 50 μS/cm)

Reproducibility

1% FS

Medium temperature

5...90°C

Mounting

Any position, attitude insensitive
Mechanical parts

Material (wetted parts)

Electrodes: Stainless Steel 1.4571
Process connections: Stainless Steel 1.4571
Measuring pipe: PEEK-GF30
Gasket: EPDM

Housing

Aluminium pressure diecasted

Ingress protection (housing)

IP65

Diameter

DN20

Process connections (welded)

1" BSP male thread

Nominal pressure

PN16
Electrical properties

Power supply

24 VDC ±10 %

Power consumption

≤ 150 mA

Frequency output

Pulse rate / K-factor
Resolution
Signal shape

Signal current

100 pulses/l
10 ml/pulse
Square wave signal • duty cycle 50:50
Push-Pull • NPN open collector [o.c.] • PNP o.c.
≤ 100 mA, current limited

Electrical connection

5-pin-plug M12x1