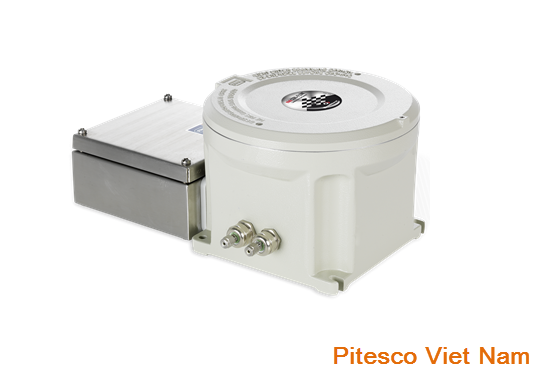 Ex-Proof Coriolis Mass Flow Meter/Controller for low flow rates
Xuất sứ: Holland
Nhà cung cấp: PITESCO VIET NAM
Hãng sản xuất: Bronkhorst
Liên hệ tư vấn
Mr Hoạt
hoat@pitesco.com
0912.300.549
hoat.bui
MINI CORI-FLOW EX D XM12,
Ex-proof Coriolis Mass Flow Meters/Controllers for low flow rates
mini CORI-FLOW Ex d Mass Flow Meters are precise and compact instruments for low flow rates, based on the Coriolis measuring principle, built in an explosion proof housing for use in IECEx and ATEX Zone 1 hazardous areas, ATEX approval II 2 G Ex d e IIB T6 Gb. Bronkhorst® model XM12 Mass Flow Meter (MFM) is suited for highly accurate measurement of gas or liquid flow ranges between 0,1…5 g/h and 2…200 g/h (which corresponds with 1,33 …66,6 mln/min up to 0,03…2,66 ln/min when used on nitrogen) at operating pressures up to 138 bar (a).

The instrument contains a microprocessor based pc-board with signal and fieldbus conversion and a PID controller for optional mass flow control by means of a separately mounted control valve or pump.
Technical specifications
Measurement / control system

Mass flow accuracy

Liquid: ±0,2% of rate;
Gas: ±0,5% of rate

Turndown

Meter: up to 1:100;
Controller: ≥ 1:50

Repeatability

±0,05% of rate ± ½(ZS* x 100/flow)% based on digital output

Zero Stability (ZS)*

< ±0,02 g/h

Response time, meter (t98%)

≤ 200 msec

Settling time, controller
(<2% of setpoint)

1 sec. (typical)

Temperature range

Ambient temperature range: 0...55°C
Process temperature range: 0...70°C
(Other temperature ranges on request)

Temperature effect**

on zero: < 0,01 g/h/°C;
on span: < 0,001% Rd/°C;
self heating (at zero flow): ≤ 15°C

Temperature accuracy

±0,5°C

Density accuracy

< ±5 kg/m3

Mounting***

Any position, attitude sensitivity negligible

Leak integrity

Outboard < 2 x 10-9 mbar l/s He

Warm-up time

> 30 min. for optimum accuracy
Mechanical parts

Material (wetted parts)

stainless steel 316L or comparable

Sensor

single tube, DN 0.25

Pressure rating

138 bar abs

Process connections (welded)

1/8" OD compression type; other on request

Seals

metal

Valve seat (controllers)

Kalrez®-6375, other on request

Ingress protection (housing)

IP66
Electrical properties

Power supply

+15…24 Vdc +/- 10%
Max. ripple recommended: 50 mV tt

Max. power consumption

Meter: max. 3 W;
Controller: max. 7 W

Analog output

0...5 (10) Vdc, min. load impedance > 2 kΩ;
0 (4)...20 mA (sourcing), max. load impedance < 375 Ω;
on request: Ex i output 4...20 mA

Analog setpoint
(for MFM + pump or control valve)

0...5 (10) Vdc, min. load impedance > 100 kΩ;
0 (4)...20 mA (sourcing), max. load impedance ~ 250 Ω

Digital communication

standard: RS232;
options: PROFIBUS DP, DeviceNet™, Modbus RTU or ASCII, FLOW-BUS

Electrical connection

All instrument connections are wired to screw terminals