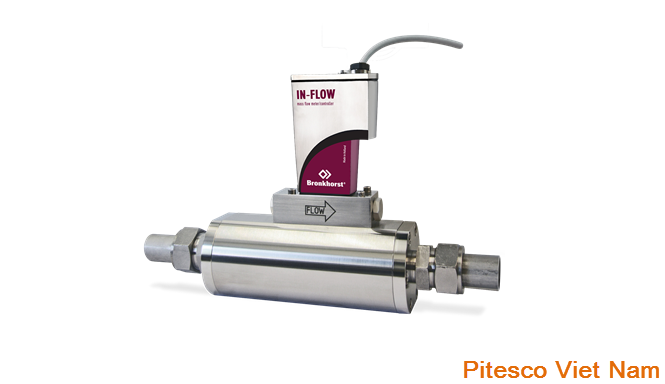 Industrial Style Mass Flow Meter for High Gas Flow
Xuất sứ: Holland
Nhà cung cấp: PITESCO VIET NAM
Hãng sản xuất: Bronkhorst
Liên hệ tư vấn
Mr Hoạt
hoat@pitesco.com
0912.300.549
hoat.bui
IN-FLOW 'HIGH-FLOW' F-116AI
Industrial Style Mass Flow Meter for High Gas Flow
High accuracy, excellent repeatability

Pressure rating 100 bar

Virtually pressure and temperature independent

Compact design

Rugged, weatherproof housing (IP65, dust and waterproof)

Industrial Style Gas Mass Flow Meters for high flow rates

Bronkhorst® model F-116AI Mass Flow Meters (MFMs) are suited for precise measurement of flow ranges between 0,3…15 m3n/h and 4…200 m3n/h at operating pressures up to 100 bar. The MFM consists of a thermal mass flow sensor and a microprocessor based pc-board with signal and fieldbus conversion and a PID controller for optional mass flow control by means of a separately mounted control valve. The IN-FLOW model is of rugged design (IP65) for use in industrial environments or even Zone 2 hazardous areas, with optional ATEX Cat. 3 approval.

IN-FLOW series are equipped with a digital pc-board, offering high accuracy, excellent temperature stability and fast response. The main digital pc-board contains all of the general functions needed for measurement and control. In addition to the standard RS232 output the instruments also offer analog I/O. As an option, an on-board interface can be mounted to provide DeviceNet™, PROFIBUS DP, Modbus or FLOW-BUS protocols.
Technical specifications
Measurement / control system

Accuracy (incl. linearity)
(based on actual calibration)

±1% FS

Turndown

1:50

Multi fluid capability

storage of max. 8 calibration curves

Repeatability

< 0,2% Rd

Response time

typical: 0,5 seconds

Operating temperature

-10…+70°C;
for ATEX cat. 3 0…50°C

Temperature sensitivity

zero: < 0,05% FS/°C; span: < 0,05% Rd/°C

Pressure sensitivity

0,1% Rd/bar typical N2; 0,01% Rd/bar typical H2

Leak integrity, outboard

tested < 2 x 10-9 mbar l/s He

Attitude sensitivity

max. error at 90° off horizontal 0,2% FS at 1 bar, typical N2

Warm-up time

30 min. for optimum accuracy
2 min for accuracy ± 2% FS
Mechanical parts

Material (wetted parts)

stainless steel 316L or comparable

Pressure rating

100 bar abs

Process connections

compression type or face seal couplings

Seals

standard: Viton®; options: EPDM, Kalrez® (FFKM)

Weight

5,0 kg

Ingress protection (housing)

IP65
Electrical properties

Power supply

+15…24 Vdc

Max. power consumption Meter

Supply
15 V
24 V

at voltage I/O
95 mA
65 mA

at current I/O
125 mA
85 mA

Max. power consumption Controller

Supply
15 V
24 V

at voltage I/O
290 mA
200 mA

at current I/O
320 mA
215 mA

PROFIBUS DP

add 53 mA (15 V supply) or 30 mA (24 V supply)

DeviceNet™

add 48 mA (24 V supply)

Analog output/command

0...5 (10) Vdc or 0 (4)…20 mA (sourcing output)

Digital communication

standard: RS232;
options: PROFIBUS DP, DeviceNet™, Modbus RTU or ASCII, FLOW-BUS