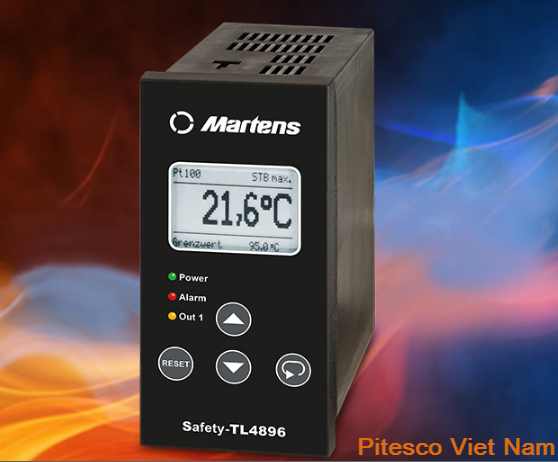 Safety-TL4896 safety temperature limiter
Xuất sứ: Germany
Nhà cung cấp: PITESCO VIET NAM
Hãng sản xuất: GHM GROUP
Liên hệ tư vấn
Ms Trinh
trinh@pitesco.com
0914.738.179
live:6ef6300b3a06528e
Safety-TL4896 safety temperature limiter
Reacts before the danger appears
The Safety-TL4896 safety temperature limiter monitors thermal conditions in industrial and thermal process plants. It fulfils all requirements on the redundant electrical configuration for safe switching in all systems for process heat in accordance with EN 746.
Safety temperature limiter: technically on the safe side
The Safety-TL4896 meets the specifications of EN 14597, EN 61508 and SIL2 as a safety temperature and as a safety temperature monitor. It enables direct mounting on the switch panel or the switch cabinet door. There is no need for an additional display on the top-hat rail. Configuration of the Safety-TL4896 (STL) takes place directly via the buttons on the front display. Additional software is not necessary. With the integrated analogue output for the temperature signal, an additional measuring chain for the signal for the PLC or SCADA world can also be omitted. The pre-alarm provides an early warning of critical situations and thus prevents unnecessary downtimes.
Two in one
The Safety-TL4896 safety temperature limiter is an indicator and operating unit in one, eliminating the need for additional devices, such as reset buttons or digital indicators, in the switch panel.
Adjustable pre-alarm
Unnecessary downtimes can be avoided with an adjustable pre-alarm, even before the limit value is reached.
Configuration without additional software
Programming takes place via the device buttons and the front display. Use of a PC and additional software is omitted.
Distinguished
with the title BEST OF 2018 the list of the best electrical products in the scope Initiative Mittelstandthe German initiative for medium-sized companies.