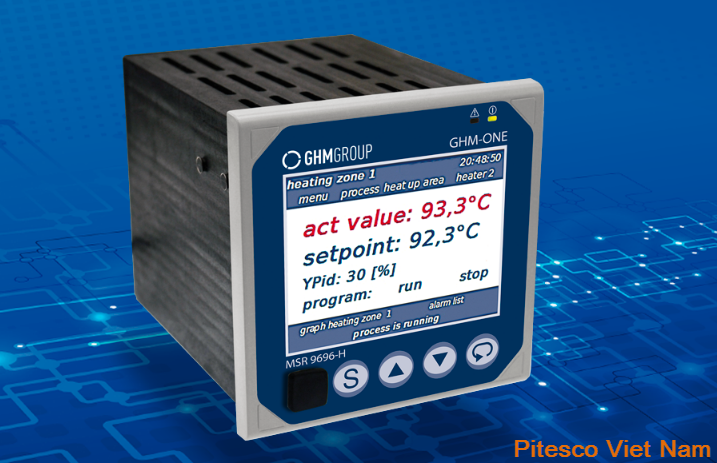 GHM-ONE multifunction unit
Xuất sứ: Germany
Nhà cung cấp: PITESCO VIET NAM
Hãng sản xuất: GHM GROUP
Liên hệ tư vấn
Ms Trinh
trinh@pitesco.com
0914.738.179
live:6ef6300b3a06528e
GHM-ONE multifunction unit
Mini PLC for your automation
The GHM-ONE multifunction unit fulfils your ideas for process automation effectively and without any special programming skills – compact, modular and durable hardware. The GHM-CAT engineering tool aids in creation of custom and intuitive software solutions for your applications. Direct communication takes place via field bus and Ethernet networks.
The multifunction unit: at home in any process
The GHM-ONE solves all tasks for measuring and control technology. With its modular hardware, the device adapts to your tasks and represents the process sequence locally with easy-to-understand graphics. The compact PLC controls production processes, stores batch processes, calculates key production figures and stores the data via network transfer or USB memory stick. The integrated controller function assists you in solving demanding control tasks.
Multifunction unit
Your process technology implemented simply and verifiably with our practice-proven function and application library
The easy way to arrive at your creative solution
Your process and system technicians use the GHM-CAT graphic engineering tool quickly and without the need for special programming skills.
Commissioning: cut down on costs and reduce time
Test the final device configuration in advance as a simulation on your laptop.
Support and service
The language assistant makes it easy to switch the language of the user interface. With the 'i-Loader' tool, adaptations of the application are transferred easily and securely from the laptop via USB or network.