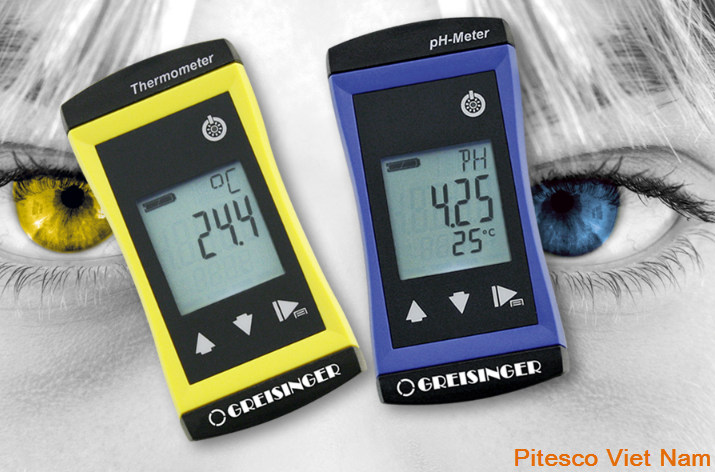 Handheld measuring devices of the G 1000 product series
Xuất sứ: Germany
Nhà cung cấp: PITESCO VIET NAM
Hãng sản xuất: GHM GROUP
Liên hệ tư vấn
Ms Trinh
trinh@pitesco.com
0914.738.179
live:6ef6300b3a06528e
Handheld measuring devices of the G 1000 product series
Functional measuring devices
The G 1000 product series combines precise and fast measurement with a compact and durable housing in one device. The handy measuring devices offer advanced functionality and determine temperature, as well as water analysis variables, such as pH value, conductivity and oxygen concentration reliably and precisely.
Handheld measuring devices: combine function and user-friendliness
The G 1000 product series consists of compact and durable measuring devices which are used in areas such as the food industry, building technology and laboratory technology. The devices are dust-proof and waterproof in accordance with IP65 and IP67. pH meter, oximeter and EC meter equipped with high-quality sensors are offered for water analysis. The G 1700 product series temperature measuring devices have an optical and acoustic alarm signal and interchangeable sensors specific to your application. All of the devices have an ergonomic design and a rotatable and illuminated display.
exact measurement
The G 1000 product series measures values exactly, quickly and reliably, which entails practically no time delay and avoidance of long wait times.
high user-friendliness
The ergonomic design, the easy operation and the rotatable, illuminated and break-resistant display ensure flawless use.
simple operation
Clearly arranged controls ensure ease of use. Detection of the minimum and maximum measurement with the min/max function, hold function of the measurement and alarm functions also provide support in daily operations.
permissible use
The Auto-Power-Off and low energy consumption sustainably increase battery life. Simple replacement with 2x AA batteries guarantees reliable operation.
an overview of costs
With the carefully arranged sensors and durable devices, you receive affordable, reliable measuring technology.