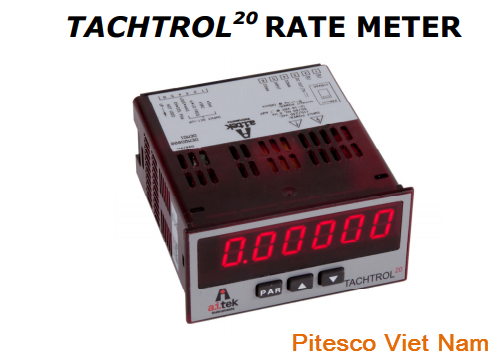 TACHTROL20 RATE METER
Xuất sứ: USA
Nhà cung cấp: Pitesco
Hãng sản xuất: Ai-tek instruments
Liên hệ tư vấn
Mr Hoạt
hoat@pitesco.com
0912.300.549
hoat.bui
MODEL T77250-10
TACHTROL20 RATE METER
• RATE INDICATION
• 6-DIGIT 0.56" (14.2 mm) HIGH RED LED DISPLAYS
• INPUT RATES UP TO 25KHz
• ACCEPTS A WIDE VARIETY OF SENSORS
• PROGRAMMABLE SCALING
• PROGRAMMABLE UPDATE TIME
• PROGRAMMABLE DECIMAL POINTS
• NEMA 4X / IP65 SEALED FRONT BEZEL
GENERAL DESCRIPTION The TACHTROL20 Rate Meter,
Model T77250-10, provides the versatility and flexibility needed to accommodate virtually any rate measuring application. The meter has the ability to scale for direct readout in terms of the units being measured. Whether a machine produces bottles, cloth, wire, or beverage mix, operation is enhanced when the rate readout is expressed directly in bottles/min., feet/min., gallons/min., or whatever units are needed in plant applications. The TACHTROL20 can accommodate magnetic pickups, logic sensors, and NPN open collector sensors. The pulses are received and scaled, so the desired display can be achieved. The meter is programmed through both the front panel buttons and DIP switches. Once the programming is complete, the front panel buttons can be disabled by a DIP switch setting. The meter has been specifically designed for harsh industrial environments. With a NEMA 4X/IP65 sealed bezel and extensive testing to meet CE requirements, the meter provides a tough, yet reliable application solution.
SAFETY SUMMARY All safety related regulations, local codes and instructions that appear in the literature or on equipment must be observed to ensure personal safety and to prevent damage to either the instrument or equipment connected to it. If equipment is used in a manner not specified by the manufacturer, the protection provided by the equipment may be impaired.