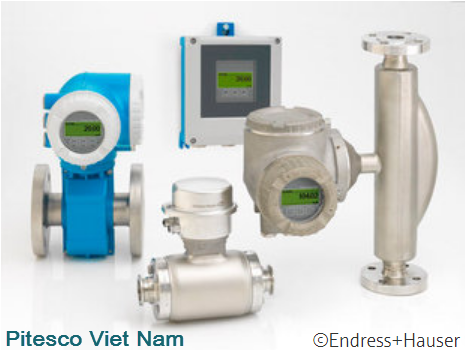 Proline Promass F 300 Coriolis flowmeter,Proline Promass E 300 Coriolis flowmeter,roline Promass P 100 Coriolis flowmeter,Proline Promass A 100 Coriolis flowmeter,
Xuất sứ: Germany
Nhà cung cấp: PITESCO VIET NAM
Hãng sản xuất: Endress Hauser
Liên hệ tư vấn
Mr Hoạt
hoat@pitesco.com
0912.300.549
hoat.bui
Promass F has a long-standing reputation as a highly accurate sensor. Immune to fluctuating and harsh environments it is suited for the broadest range of applications. With its compact transmitter Promass F 300 offers high flexibility in terms of operation and system integration: access from one side, remote display and improved connectivity options. Heartbeat Technology ensures compliance and process safety at all times.
Measuring principle operates independently of physical fluid properties such as viscosity or density

Highest measurement performance for liquids and gases under varying, demanding process conditions.
Device properties
Mass flow: measured error ±0.05 % (PremiumCal)

Medium temperature: -196 to 350 °C (-320 to 662 °F)

Nominal diameter: DN 8 to 250 (3/8 to 10")

Compact dual-compartment housing with up to 3 I/Os

Backlit display with touch control and WLAN access

Remote display available